Remolding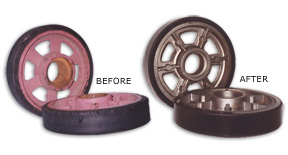 We can reprocess that one-of-a-kind or expensive OEM wheel or tire. Our thorough manufacturing system provides you a quality product at a competitive price with the best turn around time in the industry.
THE RECOVERING PROCEDURE IS COMPLETE.
The old material is removed efficiently with a high heat process.
The core is sandblasted for best adhesion of the surface.
The core is degreased to remove all leftover oils.
Spray bonding for even coating.
The bonded core is brought to proper temperature, then placed in a mold to pour the new urethane.
The molded part is then placed in post-cure ovens for proper material set up and adhesion.
The cast part is trimmed and cleaned for final inspection.
You have a quality refurbished part at a fraction of the cost.